Gentlemen,
I call upon your collective knowledge once again. The usual disclaimer to please excuse my ignorance. I really love my truck (that I still haven't started because I need to work through obvious mechanical issues first). I digress.
I need some help understanding more things about my truck and I did a bunch of google-fu and I am still very lost.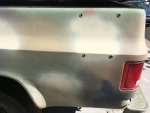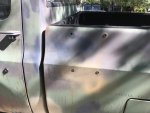 My truck is a 1984 M1008 and it has holes punched in the truck bed for the possibility of mounting 4 antennas on it (or 1 antenna in 4 possible places). Yet I can't find any pictures of documentation of this truck carrying radios of any kind on it. I understand the M1028 did have that capability but from the pictures I have seen the radio antenna is high mounted on an ambulance box and not the body of the truck and looking at the vietnam era through desert storm variants of radios that would use the MX-6707 antenna mast and antenna. Those radios are massive. Massive in the kind of way that your passenger either doesn't have legs or wouldn't mind sitting sideways on the bench in the tiny cab of my truck. I am at a loss. As configured my truck is not a radio truck or an ambulance but it has holes punched in it for options that would be non logical considering how large military radios are. So I am trying to understand why my truck has mounts for 4 masts and additionally why something that was never a radio /comms truck was thus equipped.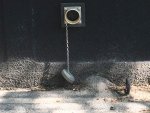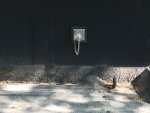 Along the same lines I found a port for what I assume was once a 20ish so pin connector in my truck bed. That was apparently "bedlindered" and then put back in place....? This again is a huge question mark. I have limited information about the origin of this truck since it was "demilled" by painting over its previous assignment.
I have not found much information about how these trucks were used outside of some very generic information and 99% of that doesn't have photos. At 29K on a truck of this vintage its basically a lot queen. My wife puts more miles on her car in a year.
I purchased both a military antenna base / tuner and mast (I already have my ham tickets) and the appropriate and a set of *holy cow* expensive pieces of sheet metal to mount said gear to my truck. The *cool location behind the cab * to mount my antennas seems like it is a stupid location to mount them for HF. If I had to guess before mounting them and plugging in my analyzer I would guess the better location would be the holes closest to the tailgate. Which again leads me to a question of even in a NVIS situation why even offer a option for a potentially poor mounting location?
Okay so my next question is less asthetic and more technical. But why in the world would a person do this to a gas tank?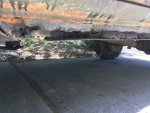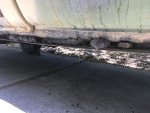 Finally I am trying to understand the markings on my truck. I have cancer in the usual spots and this is going to necessitate a repaint after I correct the rust areas. I am going to try to return the truck to as original paint scheme as I purchased it in. However I would love to understand what some of these markings mean.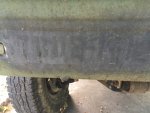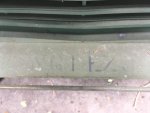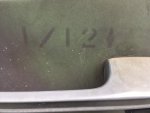 Any help is appreciated!
-ZD-