Well-known member
Steel Soldiers Supporter
Hello all, I'm Joey Hunt. I've made a couple of post regarding a CUCV I did some repair and paint work for
@patracy
's M1008, so I'm fairly new to the site. Now that his truck is complete, it's time for me to introduce my project, and see if I can't get some information and knowledge along the process of this project.
I've had a love for MV for a long time.The only one I've ever owned was a 1977 Dodge M880. Owning that truck absolutely grew my love towards MV, especially the CUCV size and style of MV. I sold the M880 a few years back, mainly due to the rust in the channel above the windshield and doors. Since I got rid of it I've wanted another MV, and I've especially wanted what some consider the unicorn of CUCVs, The CUCV-II Suburban. As I redid Andrew's truck, he and I talked about my want for a CUCV-II Suburban. Having recently purchased a 1997 K2500 Suburban, he encouraged me to clone it to a CUCV-II. So that's what I'm doing.
My intent with this suburban is to clone it to a CUCV-II as close as I can, to how the military converted them. I've read here a lot and seen that the suvs especially wasn't really a standard, as several different ones were bought with different options. I hope some of the owners and experts here on the CUCV-IIs will share your knowing me as I do this conversation. With that said here are the specs of the truck, and what I've got done so far:
It's a 1997 GMC Suburban K2500. Powered by a 7.4/4L80e (smiles per gallon I know). 141,810 miles. Original Black with Neutral Tan Leather interior.
So far the interior carpet was trash. I've already removed all the interior, and plan to replace with Black rubber floor mat. The original GMC grill was busted all up already, so I order a new complete W/T grill and components to convert to single 5"x7" headlights. I've already got a Blackout Light bracket for the grill, and all the rear tie down brackets for the rear from a CUCV. Andrew has already donated me a newer style antenna bracket (from what I find used in HMMWVs). I plan to put all the blackout lights/switch's in it and have it all working(haven't decided if I'm going to do the 24v converter they ca
I had found a Tahoe on google (turns out to belong to
@amgeneral72
after searching here) that inspired me to paint mine 686 tan.
So far that's about got you all up to speed on where I'm at. I look forward to sharing this project with you. Here are some pictures of where I'm at currently.
Truck the day I bought it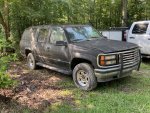 Truck as it is now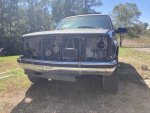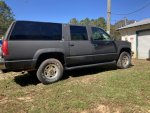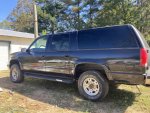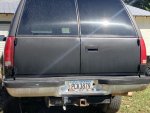 the rear cargo area I've already bed lined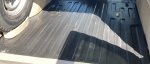 the antenna bracket I have with shield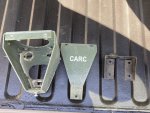 new grill mocked up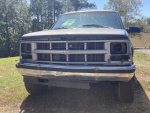 the truck that inspires me (owner tagged above)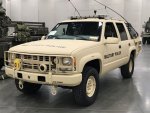 well that about has it for now. I know I've still got to source some parts (bumpers and ect), and build some stuff (brushguard, front tie downs ect), but my hope, like I've said, is when I'm done it's as close to a military conversation as can be. Thank you all for enduring the novel I just wrote, and I appreciate any thoughts, comments, and help along the way!