Active member
Steel Soldiers Supporter
So the doors in these trucks are stopped from flying open all the way by a strap at the inside bottom of the door. My strap was broken like this.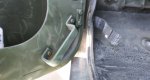 The driver door would get caught by the wind, fly open, and hit the mirrors. The old strap was 2 inches wide and black. On Amazon, I found a 2 inches brown strap at a good price so I bought it and hoped it would work.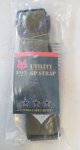 I like the brown color better than the black. So I pulled all the pieces apart and then figured out how to fix it. I then realized that all I needed to take off was the plate with two bolts at each end. After removing the bolts, the plate will not come off because it is glued. So I used a chisel to break the plate off and then used the bolts to put it back on without any glue.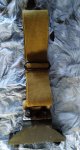 I cut the strap in half to get the correct length and so one strap will fix two doors. I have half a strap left if anyone needs to fix their door.
So the bottom line is that it worked great and it is adjustable! The original strap was not adjustable.