Evening folks... My FLU419 came with a stuck 4*4 /locker switch... Pulled the knob of and put some oil on top but it was to no avail.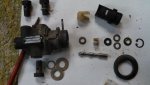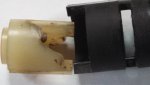 So I removed the switch and tapped the roll pin out.. There was a lot of gunk in the mechanism and I took the whole thing apart.
You can see in the detail picture that the white plastic cylinder has damaged notches. Probably from me or the PO trying to force it. With a sharp knife I remodelled as good as I could. The white piece was also swollen around the circumference so that it did not slide smoother thru the rotating black piece. Used the knife to scrape a little until it was smooth enough.
As a note.....in the layout picture not all the internal parts are seen.. I left inside the body some seal as I did not feel the need in prying them out and potentially damaging them..
The small black washer is actually a rubber seal with an Integrated copper base ring.. It with pretty snug on the shaft.
After clean out I put the thing together and it did not work. Then I noticed that I had put the roll pin in with the split on the sliding surface. After I rotated the roll pin so that the split was up and the sliding surface of the white plastic .. Whatever you call it.. Was riding on the smooth sides of the pin it all worked..
I used a sharp needle nose pliers to get the Seeger ring out. Was a little bit of a pain.
Seems that regular clean out when the knob Is pulled of would help with wear on the notches.
Note,,,, this is not a roll pin but a split pin sorry about the confusion.
Good luck for whoever needs it.
Johan
Last edited: