Today we are going to hopefully get to a point where we can comfortably and safely drive one of the 3 SEE trucks around the neighborhood. Might even dig up the neighbors yard (they are out of town).
We did discover more damage underneath from the dreaded forks. Muffler and exhaust pipe scraped and slightly dented, but I think they are ok. There area couple of bent bars. I'm assuming these are the track bars or stabilizer bars. The air tanks also got smacked, and I've disconnected an annoying buzzer in the cab... I'm guessing this is the air pressure alarm.
I'm considering pulling the front end loader off before we go cruising. I found a Reese 54" tractor jack for $70 at a Tractor Supply. I think it's going to work. Looks a little dangerous. I'm definitely going to put a block and a rubber pad underneath the leg. Might need to fab something so I can actually pin it to the loader, as it's designed. Sure do wish someone would start fabbing some jacks like they did those tilt brackets...
http://www.tractorsupply.com/tsc/product/reese-towpower-farm-jack-54-in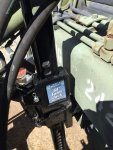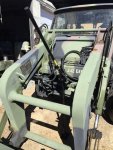 Last edited: