I returned from a casual 45 minute drive today and noticed a puddle of fuel after parking. After raising the hood and removing the doghouse, I noticed the valley of the 6.5L NA GEP was wet with fuel and the puddle was under the oil filter. I had recently changed the injector bypass hoses and found those connections still dry. I have begun my reading regarding a faulty IP and/or output connections. Time to dig deep into the TM's. I have attached a few pics with questions for input from others more knowledgable.
Thank you in advance.
- HoveringHMMWV
Are these the valley drains holes?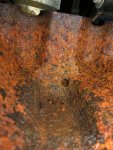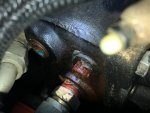 Would the leak be at the base of the pump or from one of the lower output lines?