Well I finally had it with rusting wheels ! I took off all my wheels and some spares I had laying around (21 total) and busted them down. I kept the good tires and tossed the rest.
Then I took my wheels and rings and had them sand blasted. Then I took them to
"Seattle Galvanizing" in Arlington WA. to get "hot dipped" galvanized.
For years I always thought you could not galvanize the tire "rings" since they are hardened. So I researched this and found out the wheels and rings are made from
"AISI 1023" low carbon steel. The annealing point for this steel is 1400F . Hot dip galvanizing only uses 800F to melt the Zinc, so galvanizing the wheels and rings was totally acceptable !
I got the first batch back today. They look pretty good ! Tomorrow I'll start putting my new 11.00X20 tires on these freshly galvanized wheels I bought for the Deuce and see how it handles.
Here's some pictures of the galvanized wheels.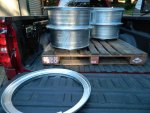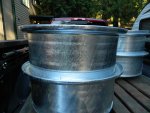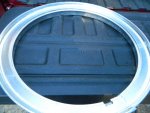 The total cost to sand blast and galvanize each wheel was $100.00 ea. I know that makes doing all ten wheels a good chunk of change, but now they will not rust for the rest of my life and quite possibly the life of my son too.
I will buy some "Galv-a-Coat" paint and paint the outside of the wheels and then I can apply some good "flat Black" or "Olive drab" paint to them.
"Galv-a-Coat" sticks to any galvanized surface and allows any enamel paint to adhere to it.
I still have 14 wheels at the galvanizer. They will be done next Wednesday hopefully.
Then I will take all ten wheels off my 1954 M35A1 and have them blasted and galvanized too. My M105 trailer will be next after that.