Active member
Steel Soldiers Supporter
When I purchased my M1009, I noticed the Glow Plug PCB box laying on the floor underneath the brake pedal. I did't think much about it until I tried to figure out where it was supposed to be. Fortunately, my M1008 had the same box and it was mounted properly to the steering column bracket. I was able to CAREFULLY remove the plastic mounting pin from the steering column and drop the PCB box to the floor. A close examination of the box revealed that a tiny plastic mounting pin was designed to slide into a pocket on the box and pop into a hole in the steering column mounting bracket.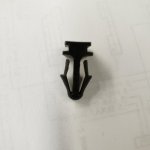 Try as I might, I could not locate this tiny slide pin. I checked LMC, Napa, O'Reilly's, Autozone and even Fastenal. I scoured the web as well, but I could not locate this part. I decided that perhaps I could make my own pin using a bolt. I purchased some flat top carriage bolts (I think they are called step bolts) from True Value Hardware and got busy with the bench grinder.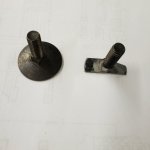 In the picture above, you can see the bolt before and after the grinder . Eventually, I was able to grind and file the bolt small enough and thin enough to fit into the slot on the Glow Plug PCB Box. I ran a nut (1/4-20) down the threads of the modified bolt to ensure it stayed somewhat off the steering column. Once the nut was in place, I enlarged the hole for the plastic slide using a 1/4" drill bit and a right angle drill. I then installed the modified bolt into the enlarged hole, put another nut on the backside of the steering column and tightened the nut.