More accurately, the Ford GPW -- but with a Willys engine. lol
It took some doing -- and a long search -- but I finally found a mostly original 1942 GPW. It was in Seattle, WA, which made getting it to our place near Corpus Christi almost impossible. It seems trucking firms don't like dead-heading, and coming to Corpus means going back empty, most of the time. So, I got it delivered to San Antonio and hauled it home on a U-Haul.
It's in great shape, and runs almost perfectly. I have spent about 15 hours working on it, changing all of the fluids and greasing fittings that obviously had not been greased for years. I cleaned the entire bottom with Simple Clean for Aircraft (non-corrosive) and rags, and found a nearly pristine frame and body. In fact, I'm wondering if this Jeep has received a frame-off restoration in the recent past, because it's really, really beautiful underneath a decade of grime.
Yesterday I serviced the oil bath air cleaner for the first time in a long, long time. It had maybe 10 drops of oil in the bottom. Everything is clean and full now.
It's got lots of extras. It came with a brand, new olive drab canvas top (still in the original package), a complete radio (including two antennas and the phone-receiver transmitter/receiver. It's got a Tommy gun on the dashboard (I've refinished the stock -- it looks awesome), the 30 cal machine gun mount (any tips on where to get a 30 cal replica?), accurate markings, the shovel, and a solid jerry can.
It's a blast to drive, and the four wheel drive works perfectly. We couldn't be happier!
One MAJOR problem: I know NOTHING of its history. The seller had only owned it for a year, and he knew nothing about it at all, other than that he bought it from a guy in California. Does anyone recognize it? Did any of you own it, or, perhaps, restore it?
Here are a few pix
--
Jay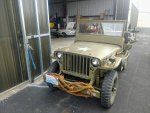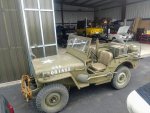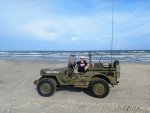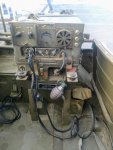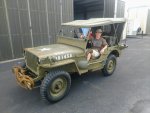 Last edited: