Well-known member
Steel Soldiers Supporter
Just weeks after getting my M1078, the sway bar bushings fell apart, and were soon completely gone. I decided to make some heavy duty polyurethane replacements, and make them [optionally] greaseable.
Here's the CAD model so far...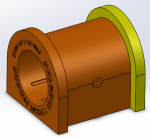 I 3D printed a prototype, to test fit, and everything looks good.
What do you guys think? Do the bushings break apart often? Are others missing them too?