Well-known member
Supporting Vendor
Everyone,
Got myself a H-120 Army Space heater this morning from the auction yard. Got it for a real good price so figured I'd get it while I was there for other things.
Has less than 3 hours on it.
Tires were horrible, but I had some to swap on at the house. Will do something better if I get it working 100%. Has the long exhaust pipe with it, but not the elbow. Had a remote inside but it was for a H-140 after doing some reading. Guess that will go on the eBay store to recoup some money into getting this thing going. Got two of the ducts with it as well. One vent cover and screen is missing. Broke one bolt trying to remove it from the exhaust pipe cover. Not sure, but I think something is broken with the Thermostat breaker.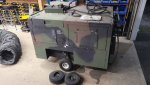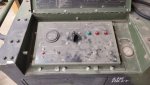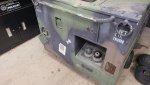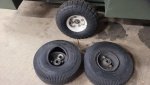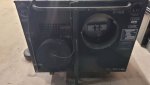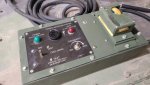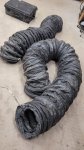 Put 3 gallons of fuel in and cut the Amphenol connector off of the 110v power connector. Made a temporary connection and moved the switch to vent and we have a blower! Power light does not come on.
Held the purge switch for a while. Hard to tell if it was working. The gauge never moved... it could be bad, or no fuel is moving?
Got the Flame Out light. Kept resetting and purging, no luck. Nothing seemed to be going on in the sight glass. From the directions, there should be an ark or spark if there's no flame?
Confirmed fuel is pumping by checking the fuel filter. Found it had been removed. Need to figure out that part number as the one in the TM comes up with nothing.
My guess from looking at the diagram, was that the transformer for the ignition is bad. I also need to order some of the bulbs for the power light as I'd guess it's bad. May swap with the Fire Out to see quick. Want to see this thing make some heat before I go to wild with it. Though, I'm sure it will get going.
Any help in finding downloadable TM's would be great. I will then share them in the uploads section.