Hey folks, been lurking here for a bit and finally joined. I've had a few MV's and Jeeps. I've been reading quite a bit in the cucv section recently after buying an m1028 that had a 12v "conversion" and was looking to convert it back to 24v since everything seems to be there. I also installed a mechanical modulator on the TH400 because the vacuum pump and vacuum modulator were bad. Driving perfect now just need to get taller tires to lower the rpm some. Looking at getting hmmwv wheels and tires.
My most notable rides...
My first was a 42 Ford GPW #60603.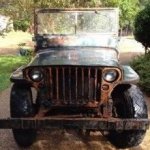 Second was an M37 1954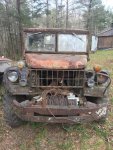 current- 85 M1028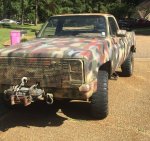 46 CJ2A that had a repop M38 tub. My DD/off road toy for a year. L134, T90, D18, 5.38's, and 11x2 bendix drum brakes.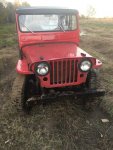 And a little project I've been fooling with over the past year is a 55 3B with SOA YJ springs, F134, T98, D18 and currently D25/D44 5.38 with 16" Jackman's. Working on the cage and other things.