Finally got around to putting my load bank together and testing it. I used four 5400 watt dryer elements, hooking two of them in series to cut one circuit load in half. This makes the total theoretical load 13.5 KW. I bought a 100A six space panel to create three 240V circuits. I used two 25A breakers for the single elements and a 15A on the two series elements. I had the fan and all the metal laying around so I don't know what the whole thing would cost if you had to buy it all. The four elements cost $71.80 off that auction site. I bought a 36 ft RV cord off the auction site that I am cutting up for the wire. I used about 3' of that with the male plug on the load bank which would cost around $25 to replace. I spent $100 or so at Home Depot on the panel, breakers, and stuff. I actually spent a lot more than that but it included stuff for home hookup. Basically it's a rectangular box with the elements and a fan blowing through it to cool them. I used aluminum angle for the frame and 1" aluminum channel across to mount the elements. I pop riveted everything except the outer panels which I used drill tip screws on.
Here are some photos of the project.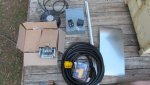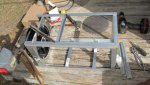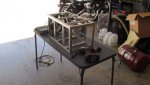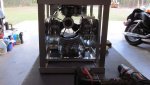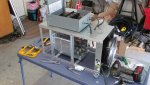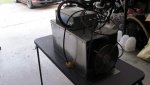 I used the dryer elements without any high temp thermostats. The connectors on those are a 5/16" wide quick disconnect which I was unable to source. Using 10 ga 1/4" quick disconnects worked okay by spreading them a little. I held both sides of the connectors with pliers while pushing the connectors on.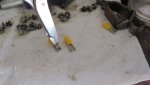 And finally here is a video of it being used.
https://www.youtube.com/watch?v=11AIHi78y98
Last edited: