Let me start by saying....I don't plan on moving this thing again for a very long time! LOL Ok It took me some time to decide exactly where I wanted to place it. I ultimately decided to take a corner of the fire pit area. I really didn't want to sacrifice any grass and the pit was already there so that's what I went with. Now I had to figure out how to....
* move it out the garage
* make a tight, sharp 90 degree turn
* squeeze it between my house and the neighbor's BRAND NEW fence (about 40" of clearance and also the same side as my service drop)
* Roll it over 40' of thick grass
* And lastly roll it over several inches of gravel, turn it around and place it in it's final resting spot.....ALONE!
Luckily I still had a trailer dolly I used to move my race car around a tight yard at the old house. I already installed 4 10" pneumatic tires on the 803 but I needed a way to mount the hitch to the generator temporarily. I decide to mount the hitch on a piece of 2x6 and then mount the 2x6 to the generator. I drilled through the front of the skid and made the attachment there. When I was done I could just unbolt it for the next time I needed to move it. Next I jacked the set up, removed the front casters and lowered it onto the dolly. I used my small ryobi generator to power the dolly during the move. After about an hour the generator was in place, the fence was still standing and nothing was in the least bit damaged...... BUT if I knew then what I know now I would have done a few things differently. 1st I would have waited for a friend to help me. It would have saved so much time if there was and extra set of hands guiding the rear of the unit. I had to keep stopping and adjusting the unit to make sure it didn't hit anything. 2nd and lastly I would have used a thicker piece of wood as my mounting bracket (maybe a 4x6) because the wood was cracked in a few places by the end of the move. It never completely gave but it was a little uncomfortable. So that's my relocation story. Maybe it wasn't the fastest, easiest or even smartest way to do it but it got done and I'm happy about that.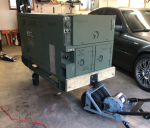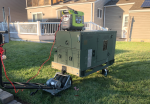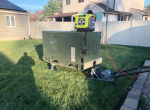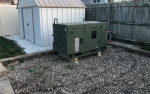 Last edited: