Ok to start off with, this project is probably about the worst thing that could happen to an m151, but, i like it.
Picked up a sand rail m151 recently at auction... Am already getting help over at g838, but I figured I would see if anyone can id what vehicle this pioneer rack came off of. It doesn't look like the one on my m109a3, and I really don't have much else to compare it to.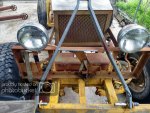 For those that are interested... The specs and history:
Purchased right outside of el paso, then moved to utopia tx. I picked it up for 275 at auction and ddragged it to san antonio.
Engine is dated 67 (i believe), hadn't run in 10+ years, got it started on starting fluid a day or two ago.
The front and rear suspension are both m151 front suspensions, so possibility for 4 wheel steering.
It looks like a possible jeep frame, m151 power plant and suspension, and a vw sandrail cage.
As of now, it has been started on starting fluid, fuel pump works, ignition system works, transfer case works, transmission is not doing much of anything, brake/clutch pedals are aftermarket and shot... work in progress
Last edited: