Well-known member
Steel Soldiers Supporter
I will be attending the Idaho Military Vehicle Preservation Association (MVPA) Military Vehicle Show and Swap meet and I have reserved a 20'x40' vendor space. The show is scheduled to run Saturday, June 24th through Sunday, June 25th, 2017 and will be held at the High Desert Harley-Davidson, 2310 E Cinema Dr, Meridian, ID 83642.
For full details see the flier:
http://www.idahomvpa.org/our-military-show-june-2016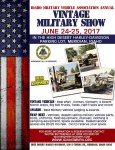 In SteelSoldier's Express tradition, I can pickup/drop off large/bulky items for you along my route. Additionally, mostly for the Utah folks, if you have anything you'd like me to try and sell for you I'd be happy to take it with me as long as you tell me the price and you bring it to me! I can even look for and buy items for you at the swap meet if you give me the money in advance. I do request no greasy or oily items. Fuel tips appreciated.
I do not have ability to load or unload items that cannot be managed by 2 people.
I will be leaving early morning at o-dark-thirty on Friday, June 23rd from Kaysville, UT and I will be driving my 1972 M35A2 with a Dodge Dakota as a chase/support vehicle. If there's enough gear/parts I can also tug up my M105A2 and even my M101A1 as well. I make no guarantees that I'll make it and not break down, but I'm trying my best.

The following are my possible route options. The first is the most direct, but I may opt for the second, more scenic route, as it really won't increase a deuce and a half's travel time by much...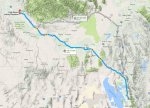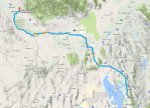 Last edited: