Hello,
I'm new to the forum and I just bought a M923A2 ROPS truck.
I drove it back to Canada from St-Louis, Misouri last week-end. 22H of driving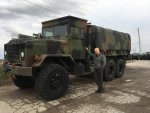 So this morning, I had to go and pass the mandatory inspection for licencing in Quebec. 2 minor bugs, but one I'm a bit confuse is the loose in the steering column. I will check that tomorrow.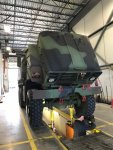 JC