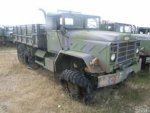 Haven't driven one since the guard in late 90's - early 02 and never purchased one so I have a few questions! Didn't expect to win or I would have been better prepared and started researching earlier.
My first question: I have previously bought items that required an EUC that was clearly listed.
I do not see an EUC required on this listing. Is that normal or an oversight on their part? Should I expect one to pop up when I pay the invoice on Monday?
Second Question:
The auction states it runs but requires a jump start. Is it possible to add fluid, and maybe jump it and it may recharge fully, or should I assume they are gone and take batteries with me?
Alternative - I live 3 hrs away. Should I jump and not worry about it till I get home and see what it does?
Alternative - Anyone have suggestions for batteries purchased from Interstate Batteries? - They are close by and I have a business account with them.
Third Question:
The vehicle has an oil filter that is marked 2011. Can I assume the oil is good enough to drive home if level/clear enough?
Fourth and Final: For now
The passenger tire is clearly blown out or it was low and they carelessly moved it that way.
It appears to have a nice spare. -super single and heavy
Can anyone detail the specific parts I will need?
Wrench size. -length
Lug Size.
Any specific 'just in case' tools to take with me like to cap the CTIS or anything else?
Any fuel additive for older fuel?
Anything else I might have missed.
Side note:
Any members in the Houston - Conroe - The Woodlands - Bryan - College Station areas that want to ride along are welcome.
Looking forward to being an active part of the community!
Last edited: