Well-known member
Steel Soldiers Supporter
My M1078A1 built in 2003 History, Purchased from GovPlanet September 2015 as a non runner all fluids drained, no batteries and a huge hole in the front left tire.
Picked it up from Hurlburt AFB, Florida.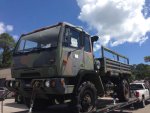 I've been working on it ever since.
I'm late at starting this project thread but I wanted to have a single place to post the different things I've done to it, so I'll start posting current progress and past progress here and post links to my other threads.
To begin they through all the drain plugs away when they drained the fluids. Which is crazy because it leaked fluids everywhere hauling it home so it had to have been leaking fluids in the motor pool. So whats the reasoning for draining the fluids? Any way after purchasing new plugs, batteries and a used tire then filling it back up with fluids.
About 30 seconds of cranking it STARTED!!!! Surprisingly ran and drove great. Despite a few idiot lights on in the dash.
I'm along ways into the build now so things won't be in chronological but I will go back when I have time and edit the first post when necessary.
Here is my latest project.
Last edited: