KEYED BATTERY CUTOFF SWITCH from
Those Military Guys
. Should fit most trucks with the batteries under the passenger seat (M939 and others).
Now you can have peace-of-mind when you leave your truck unattended. With this cutoff switch and a pair of our LOCKING DOOR HANDLES, your military truck will be just about as secure as you could hope for. The keyed switch is rated at 180 continuous amps and will handle a 1000 amp surge. The cables are heavy duty 2/0 welding cable.
Installation is straightforward, and is easily accomplished in less than a half-hour with simple hand tools .
$79
You can order this item using PayPal or your credit/debit card.
Our PayPal I.D. is
thosemilitaryguys@gmail.com
You can contact us at (909) 703-1400 or
thosemilitaryguys@gmail.com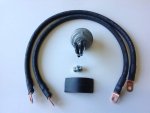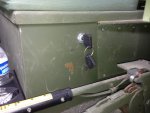 ​
Last edited: