Well-known member
Steel Soldiers Supporter
For those of you following my rebuild thread, you may know that I have recently purchased a completely rebuilt NP241c transfer case from Mark Bendler at Kodiak Truck in Wisconsin. Since my P400 engine and Bowtie 700R4 transmission are still on the cradle, I decided to go ahead and mount the crossmember adapter and NP241 to the whole assembly. I wanted to do this for 2 reasons, first, to make sure everything fits together properly with all bolts torqued correctly, and secondly, to install the JB Custom Fabrication Cable Shifter. Well, everything went as planned until I filled the NP241 with oil. The next day, I noticed a few drops of oil had leaked out of the front output and onto a piece of cardboard I had placed under it the night before. I knew that Mark had installed a new seal, so I figured the yoke sleeve was scored from years of running in 4WD and probably on salty or muddy road conditions. I removed the yoke and confirmed that the seal was new and perfect, but the yoke sleeve indeed had a scored section approximately .0020 -.0030 deep exactly where the seal lip rides on the sleeve. I called Mark back and he was good enough to send me a repair kit. I installed the kit and Bingo! No more leaks.
The repair kit consists of a thin metal sleeve and drive cup, nothing more. The repair sleeve is driven down onto the yoke sleve with the drive cup. It fit like a charm. I used my 16-oz hammer and tapped the cup around the edge until the repair sleeve was seated all the way against the yoke shoulder. I did a little something extra when I installed the repair sleeve. I ran a small bead of Permatex Black Ultra around the yoke sleeve right where it was scored so that when the repair sleeve was driven down onto the yoke sleeve, it would seal even better. By the way, those yokes are no longer available new. Almost every one I have ever looked at had scoring at some level of magnitude.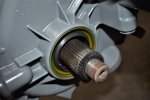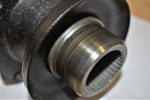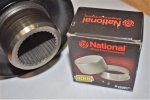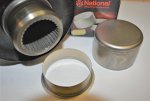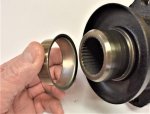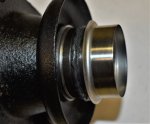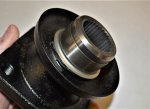 So for you fellows who think your front seal may be leaking, it may very well be leaking, but you may also have a scored yoke sleeve too. The yoke repair kit is cheap and easy to install, so if you decide to replace your front seal, I recommend that you also inspect your yoke for scoring. If there is any evidence of scoring, buy and install the repair kit.
Hope this helps.
.
Last edited: