Active member
Steel Soldiers Supporter
So I was wanting to put LED bulbs in the rear tail lights and I wondered if I could just replace the bulbs. So I took apart one tail light and I was surprised to find it was half LED already.
BTW, if you want to take apart the tail light to replace the bulbs, you just loosen the straight head screws along the outside - not the Phillips screws in the middle. And the straight head screws are trapped so they do not get lost. So just turn each screw about 4 turns until it is loose but trapped. Then take off the cover and the 6 screws will stay with the cover.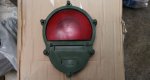 Inside I found two incandescent bulbs and two LED lights. I am guessing that the two bulbs are for the running lights and the brake lights. It looks like the bottom row of LEDs are infrared and that seems to agree with the fact that the bottom lens appears to be not transparent. Although the military likes to paint everything so maybe it is intended to be a clear lens and someone just painted over it.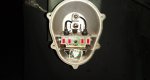 The two bulbs seem to be common and I found them both on Amazon. If you just want straight incandescent replacements then search for CEC Industries #623 Bulbs (box of 10 for $9) and Ml-1683 Bulb (box of 10 for $22). Both bulbs are 24 volt.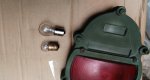 I ordered some LED equivalents and I will try them out and see how/if they work. I will update this thread with the results.
FYI, both bulbs have two filaments but one electrical contact. I am guessing they use two filaments to make the bulb more rugged. One of my bulbs was labeled made in Taiwan so not everything on this truck is made in the USA!
Here it is with the bulbs in there.