Active member
Steel Soldiers Supporter
So I bought some LED bulbs and I am putting them into the tail lights to see if they will work. I was a little bit worried that when I changed the bulb the truck would throw a code saying that a bulb was burned out. But it did not. So here are the photos of the LED bulbs I got from Amazon along with the stock ones.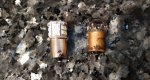 Search Amazon for this:
LUYED 2 x 650 Lumens 12v-24v 1156 1141 1003 3014
Here is a photo of the result. The left tail light has the LED and it is a little bit brighter than the stock one on the right. I will replace them both with LEDs but I wanted to see the difference first.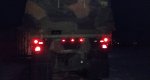 So I replaced the top bulb in the taillight. I am trying to find the other one, the big one, but a 24 volt LED that is the correct type is hard to find.