I have been gathering parts and getting more tin work done. 4 door frames are stripped, air ride cab is sourced and engine is purchased. I have the front fenders and hood mocked up. Ordering my air conditioning, rad and inter-cooler hopefully this week as now I have measurements.
Hit MAJOR delay though which has eaten up a pile of my time.....Turns out ROCKWELL who makes the T1138 Transfer case WON'T sell me parts to repair the one I purchased off Government liquidation website. They will sell me a new one for $7000, but won't sell me the syncro ring and seals to repair the old one. What sense does that make???? Apparently they won't sell military parts to Canada???!!! That is just crazy IMO, they will sell me a brand new one, but no parts??? What happens if I need parts for the new transfer case????? I sent out some emails to oshkosh, big mikes, etc, hopefully they can help.....Anyway, here is what I am at below.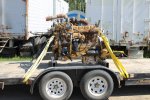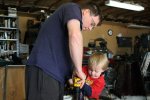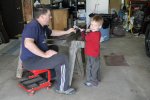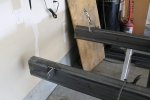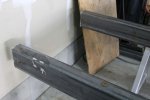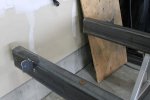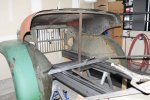 Pic #1 - 1989 Caterpillar 3306C loaded on the trailer
Pic #2 - My youngest son helping me drill out spot welds on my door frames
Pic #3 - My oldest son helping me centre punch my fingers, I mean spot welds
Pic #4 - First brackets welded on
!!!!
Pic #5 - First brackets cut off

((
Pic #6 - Brackets with proper measurements welded on

Pic #7 - Fender on and hood mocked in place.
Admittedly there won't be much to show for the next little while. I need to order rad, intercooler, transmission oil cooler and aftercooler for the A/C unit.
What do you all think of this for a suspension: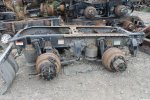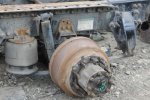 Airliner full airbag suspension!!. I figure the Cat has a gear driven air pump, might as well use it. Problem is (or so I have been told) is they only make one style of bag. So I would have a a rear end rated for 44,000 pounds! To me, this will be a back jarring ride, even with the air ride cab. Most I plan to carry on my deuce is 2500 pounds, and that is absolutely max. I though one might be able to lower the bag pressures as they have a somewhat narrow ride height range they need to be a adjusted to. But I am still leery about how stiff this will be. Thoughts?
letssled
Last edited: