Yes, the title of this topic is a play on the name of a Beach Boys song.
And yes, this is another topic about knuckle boots.
Although I need to block-up my M35A3 every time I park it for the day (at least until I get the rim seals fixed), it forces me to inspect the bottom of the truck and open the air system drains. While blocking-up the front axle last night, I noticed grease that made it's way out of the passenger-side knuckle boot.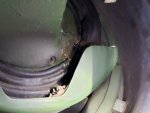 As I searched the forum about doing boots, a few of my questions went unanswered:
1. Can this replacement wait three or four more 20-mile trips on pavement until weather improves in the next spring?
2. Is this much of a concern if I'm not offroading? I don't want the u-joint to lose all its grease either.
3. Where's the best place to get a replacement boot, both zipper and solid? A lot of topics discussing quality are from years ago. I've been considering boots from Eastern Surplus, but they are about $20 more than those sold by Memphis Equipment. Is there a good reason for that price difference?