Active member
Steel Soldiers Supporter
So my truck is parked out in a field and I worry that someone might come and help themselves to some Diesel. I also worry that some bad person might come by and throw some bad stuff in the fuel tank. So I set out on a quest to find a locking gas cap for my 7 Ton.
I found one. I have it installed on my tank and it was easy. The new cap came with a rod that is meant to go inside the tank and prevent the cap from being lost but in our trucks with the strainer in the neck, the rod could not go in like it is supposed to. The good news is that the rod does fit through the strainer's holes so I just stuck it in there.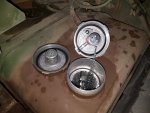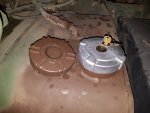 The cap locks on by means of a cam so there are no changes required to the tank at all.
Buy Fuel Cap for 4 Inch Threaded Fuel Tanks - Locking, NPSM, Full Function Vented, 255F Thermal & Pressure Relief: Fuel Tank Caps - Amazon.com ✓ FREE DELIVERY possible on eligible purchases
I get no money or anything from the above link.
You can also purchase the fuel cap directly from the seller's web site:
www.eztruckstore.com
It is item FTA-C-64.
The only downside that I could see is that it is vented. That could be bad news if you go fording with your truck and the water covers the fuel cap. Water might get into the tank. Later, I will try to figure out how to plug the vent because our fuel tanks are vented already and the vent is above the 5 foot fording depth.
I could not find a cap that did not have a vent.