M1009: 4" lift - draglink geometry correction- dropped pitman / raised steering arm?
Good morning together,
my M1009 has a 4" leaf springs in the front without any steering components corrections done.
I have installed a dropped pitman (should give theoretically 2" of drop) arm yesterday, to correct a little bit the scaring drag link geometry.
As I have understood, the drag link should follow the arch of the leaf.
So, what do you say, is this acceptable?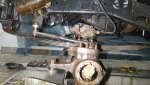 Or should i install the original pitman arm back, remove the original steering arm and replace it with a 4" rised one?
If so, will be a 4" correction for a 4" lift not too much?
Thank you.