New member
Steel Soldiers Supporter
Howdy! Just thought I'd post a picture of my not so recent acquisition. Below is the only picture I have currently.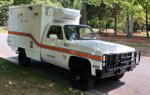 I have always admired CUCVs from afar. Recently I started my 1/3 life crisis and decided I wanted something that was the same age as me. So when I started looking for 80s era vehicles I wanted to own, I stumbled across CUCVs and instantly fell in love.
I am 2 hours from home through the week, so I haven't done much to her. Previous owner had replaced the glow plugs(maybe the card? It looks like a new one). I have not had time to see if I need to fix the starter relay, but that's top of the list to check. I have a spin on fuel filter base to install as soon as it gets warm, factory one weeps fuel and is letting air into the fuel system. Once I get her starting easy I plan to:
Ditch M1010 24V system and switch to dual 12volt alts
Ditch glow plug resistor pack
Ditch the AC Compressor and Condenser on box (free to a good home)
After that I plan to drive her for a while and see what breaks or squeals the loudest to get fixed next. Long term goal is to fix her up to be reliable and FUN!
My family/friends are in two camps. Camp A thinks it's AWESOME and can't wait to see it out on the road, camp B think I'm crazy and shouldn't have ever bought it. My nephew was camp b, until I let him drive it around the field, then he was converted to Camp A.
I love telling people that it's the same age as me, I don't blame it a bit for not being perfect.