Member
Steel Soldiers Supporter
When i got my truck, the over-pressure relief valve on the top of the air dryer was broken, not allowing the system to build pressure. Taking it all apart to see how it works, i also found that the desiccant had leaked over the inside. Not able to find parts to repair it, I decided to take the plunge and replace it with the new style. I got the new one from the classifieds on SteelSoldiers.
Over all it is a simple project, and you can re-use all but one fitting. The only parts that i had to buy is the Haldex DQ6051 universal mounting bracket, and one size larger on the NTP fitting for the 1/4" control air line (napa had it in stock). I was only able to get 3 of the 4 bolts to line up with the existing bolt holes in the frame, but after putting it together, i feel that it is more than secured. Also I had to adjust the mounting bracket, by notching it out to fit around components bolted to the frame.
The 17mm bolts holding both style brackets on are a bit of a pain, the back side need a deep well, and you can only use a wrench on the front.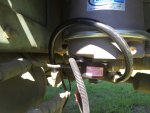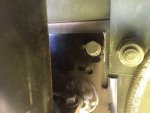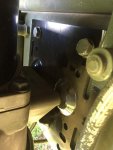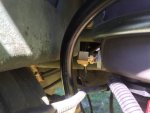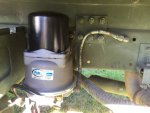 Last edited: