Super Moderator
Super Moderator
Steel Soldiers Supporter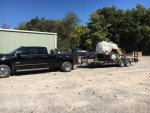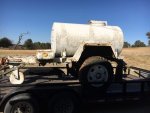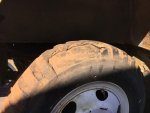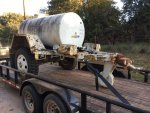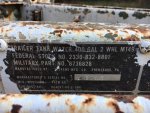 Recovered the water buffalo yesterday.
The chassis plate shows it started life as an M149, then later updated to the A1 version. Still researching the differences.
At some point, the A2 stainless steel tank was installed and that tag says 1987.
Unknown if it's a manufactured date or installed date.
Lots of light/medium surface rust but no heavy rust and zero rot.
The tires of course are toast.
Good news is it came with a NOS set of STA 10.00-20's.
Also included a good used set of 9.00-20 NDCC tires mounted on the rims.
Brake system is shot, as expected
Short of installing a new Dexter axle, I'm not sure what to do yet about brakes.
Parking brake handles work but the cables are also toast.
Haven't tried the tongue jack yet.
Best part is the tank inside is spotless!
Gasket on top hatch cover is in great shape.
I was worried that fuel or oil might have been carried in it.
All faucets and drain plugs are in place.
A good Sanitizing (per the FM) and it's ready for drinking water.
I didn't realize that the tank was insulated.
New tires will be installed next week.
The bulky and heavy jack will be replaced with a modern 7000 pound crank jack by Butler Jack.
Power washing it today to get old paint and moss off.
A few missing/damaged parts like the parking brake cables and original main drain plug will hopefully be found. It has PVC drain plug with a garden hose adapter on it now.
I'm sure it works great but want an original plug.
Also missing is one leaf spring roller bushing and shaft.
Will not fill tank until it's found.
Lots of work ahead to get it in the shape I want it in.
I already have the 383 CARC paint.
New taillights are ready.
New wiring harness acquired.
Will also install side clearance lights.
Happy with the purchase so far.