dumpsterlandingfromorbit!
Steel Soldiers Supporter
Ok boys and girls, this post is way overdue and I apologize to Bigmike and the rest of you.
Back in March I was contacted by Bigmike that he had some dog bone rod ends he wanted me to test out. We worked out an agreement and he shipped me 8. Some were rebuilds and some were new, but of a different design.
I took off all 4 of my bottom dog bones to swap these in. The round ones (new design) were a tad harder to keep straight while pressing them in, but no big deal if your watching what your doing.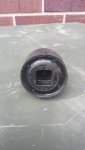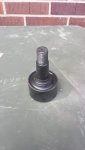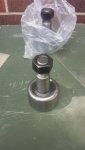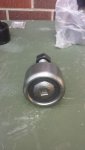 Also, when pressing the old bushings out, be careful not to catch the dogbone itself, you will bend it pretty easily!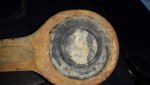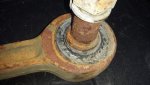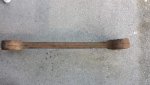 A comparison shot of the old one I removed and the rod with Mike's new ends in it.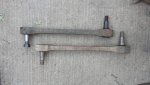 I planned and had them installed for my trip to the June Haspin event. Rest assured, I put them through their paces and stretched them as much as possible. They performed like a champ and so far I am quite pleased. Anyone that has been wheeling with me can attest I push my suspension as far as it will go. Because I was driving, I had others take pics of my truck while wheeling. Here is where the story gets crappy. Westy had his girlfriend take the pics since she had a sweet dslr camera, but they broke up before I was able to get any of the pics. I'm sure you can all picture my deuce stretched out to it's max at an off-road park, so we will leave it at that.

Aside from Haspin, I have done some city driving and have had no complaints. The rod ends have been installed less than a year, so I will make sure I post updates every so often. If anyone has any questions, feel free to post up and I will do my best to answer you.