Well-known member
Steel Soldiers Supporter
Late last night I had one eye still half open when an episode of "Junkyard Empire" aired. They took what looked like a pristine M35A3 with about 5k miles on it and converted it into a "bobbed" single axle camper. Ostensibly "for a client". Well, it is a reality show.
So, now, knowing that they are Damascus Motors....one can locate pictures of the vehicle relatively easy. I leave it at that. Don't want the wrath of the moderators.
I guess the result is not half bad. I personally did not like how they handled the vehicle;torching off all the bed mounting bolts (that looked fine), and then chaining the bed (what looks like a pristine, LED-light equipped bed with fiberglass troop seats) to a dozer and ripping it off the frame by driving the truck forward, is just unneccessary.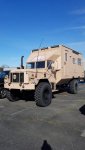 Picture not mine; all rights belong to the owner.
Placing a camper wrong-way-round onto the truck frame is an interesting way to go about it, I thought. I post this because it is somewhat original and ingenious and deserves a mention.