Hi From a newbie over the pond, and thanks for letting me join.
I have just bought my 1st jeep to work on as below, ex dutch army and trying to work out if its about right or a bitsa, yes cart before the horse I know.
1st question is regarding whether or not the engine can be accepted as a correct fitment.
Engine number is actually 151 018379 which suggests to me its a 151 engine? but data plate is showing MD109814
incorrect hoops and canvas also have to go, and can you get fender repair sections where the overlay re-reinforcement section fits towards the back of the fender including the edge profile which is missing on mine on both sides as you can see.
Any advice would be great.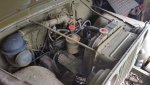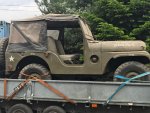 Thanks
Chris
Zil131-161-A2M, Bedford MJ, M38A1