19K M1 Armor Crewman
Steel Soldiers Supporter
In this thread I will be discussing, hopefully in some detail, the conversion of my M818 to full dual circuit air brakes. I plan to post up as I progress with the installation. This mod should work for all M809-series and M39-series 5-ton trucks.

The air assisted hydraulic brakes, as delivered on these trucks, are incredibly efficient in bringing these vehicles to halt and if well maintained are very reliable. The problem I have with this whole system is the fact that there is nothing to fall back on if there was to be a brake line catastrophic failure. I want to lessen my liability in our over litigious society, err on this side of caution and render my truck more safe to travel on public rights of way.

After much thought, study and consideration, I have decided to equip my truck with Q Plus 16.5" X 7" s-cam operated brakes for the rear tandems. These brakes and all associated parts are readily available readily available on the civilian market. I was able to purchase all the parts in kit from Cariboo 6X6 in British Columbia. These kits are supplied from an East Coast distributor. The kit comes with drums, shoes and shoe kits, spiders, chambers, s-cams and their brackets, seals, tubing, relays, seals, wheel studs and all hardware needed to complete the retrofit. It does not include front brakes.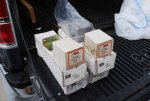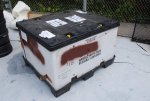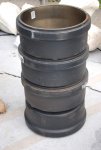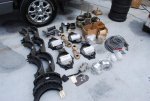 As far as the fronts go, I have seen an M817 dump truck that was converted with s-cams on the rears and a set of M939-series wedges on the front. I decided to also go this route. I was able to source all the parts, drums, hubs and spiders to retrofit my truck from a donor truck out in Hesperia, CA. At the same time, I was able to purchase for a very nice price a brand new set of four brake shoes. The other parts are completely serviceable and require cleaning with only the replacement of the air chamber diaphragms, plunger seals and return springs.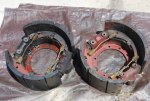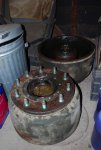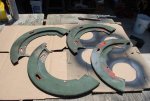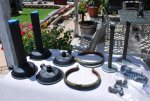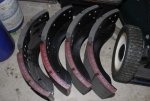 Up to this point, I have only been amassing parts and have not undertaken any installation. My truck was just in a show and I have activities planned for it during the Memorial Day Weekend. I will have to take the truck completely out of service so hopefully after this weekend I can get started.