conceptualizer at large
Steel Soldiers Supporter
Any one else have this problem?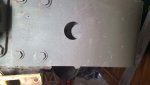 Outside view of drivers side rear bumperette - shackle pin head doesn't line up with hole in bumperette. Pin is actually a little rusty, so must be original.
​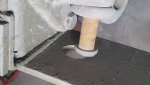 Inside view (turned 90 deg for some odd reason) showing amount of mismatch.
Passenger side bumperette shackle pin and hole line up - shackle removable and pin is clean and still plated. Bumperettes are not bent.
Last edited: