19K M1 Armor Crewman
Steel Soldiers Supporter
About four years ago I modified and installed an M939-series battery box up grade on my M818. It is a very sturdy, modular design allowing easy access to the batteries. In addition, if you use only two batteries, it lends to more storage space. It did come with some drawbacks including hanging lower than the original leading to less ground clearance and a somewhat awkward series of steps to climb into the cab. However, all in all, I was always pleased with the box.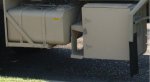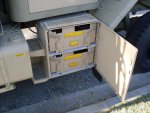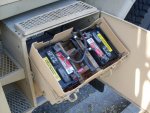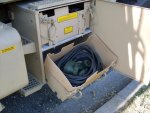 Well, while perusing items on the well-known auction site, I happened upon these really nice M915 battery boxes. These boxes more closely resembled the original style M809-series battery box configuration, especially having more ground clearance, and would be more secure if a lock system was added. I looked at the dimensions posted in the auctions and compared to the space on my truck. The box would fit perfectly. Also the OCD kicked in and I needed to have one.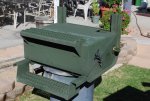 Now, here was the problem. The prices were decent, but all these boxes were located out of state and the freight charges were a deal killer. So I decided to "Bing" M915 Battery Box. The search lead me back to Steel Soldiers. I found a link for...

http://www.steelsoldiers.com/showthread.php?127138-My-M923A2-Battery-relocation-and-custom-battery-box-mod

I then plugged "M915 Battery Box" in the advance search and there it was. Brother Artisan had a grip of them for sale and all I had to do was drive across town to pick it up. The rest of that is history.

Last edited: