BIG DUMMY
Steel Soldiers Supporter
After installing a driver's side air-ride seat in my M931A2, my wife refused to ride in it any more until I installed the passenger-side air ride seat...which meant relocating the batteries out of the cab. I couldn't manage to find a NOS battery relocation kit nor box for a price I could afford (a member here had a brand-new box only but the freight was prohibitive...I underestimated how much it would be). I took some preliminary measurements (which proved to be off slightly, what else is new) and figured I could make my own battery relocation box if I could find another passenger-side toolbox with built-in step.
Up steps
Airbornebandsman
, who located a BEAUTIFUL passenger-side toolbox from a truck in a salvage yard near San Antonio that he likes to frequent. He pulled the toolbox, brackets, step, and all the hardware from the donor truck and packages it all up nice & neat, and ships it to me. Without Mik's help, this would
NOT
have been possible!
THANK YOU MIK!!!
I located some new plastic battery holders; one was for an M35 and the other was set up for the M939-series with the relocation boxes...I didn't realize the differences between the two until it became time to put them in. More on these later.
The toolbox Mik sent me was nicer than the one that was on my truck...go figure! I almost hated to modify it, but the project wouldn't get done unless I did. I removed the stock toolbox, brackets, and other small items necessary to kick this off. I didn't remove the air tanks at first, figuring if I needed to they could come off later.
For my battery relocation box, I figured I would weld my existing toolbox on top of the toolbox from Mik, and graft the doors together. As I mocked everything up, I realized that this project was going to be a bit more involved than I had intended. First, the plastic battery boxes would not fit through the existing toolbox openings...don't know how I missed that. Then, I noticed that the M939-series plastic battery box had the handles mounted lower than the M35-series plastic boxes, so I would either have to remove the rivets & relocate the handles up higher, or build an elevated portion inside the toolbox for the plastic box to rest on. I opted for the latter, more on that later.
So, to start with, I had to widen the openings of both toolboxes, which meant I also had to relocate the latches and the locking hasps; I then welded scrap pieces into the old openings to plug them up.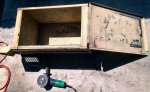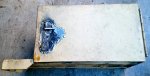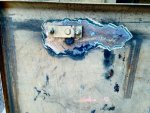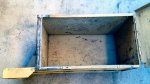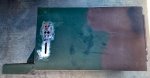 Last edited: