While poking around under the hood I noticed significant slack in the alternator mount and have since found, of the three bolts holding it to the engine block one is broken one is missing and the other was out of the block but trapped in-between the power-steering pump reservoir.
The aluminum bracket has a crack in it. I have looked online unsuccessfully to find a replacement.
Will the steel 200 amp upgrade mount work with my 60amp alternator?
Broken bolt. any tips on removing the broken bolt from the motor? I have a speed out kit. Don't want to mess up the block obviously. Where can I get the replacement bolts? I tried getting some at Home Depot but with the broken and missing ones I dont know the correct size.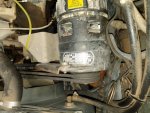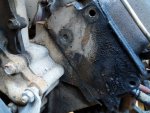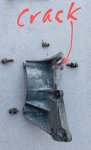 Thanks for the help, I got my 91 M998 6 months ago and have done a few minor repairs but this is the first big one.