New member
Steel Soldiers Supporter
Chainbreaker,
The airplane was pulled from the Marshal Island chain in 1990. The airplane was amazingly intact. It was disassembled for the transport to the States. the hull was 80% there but heavily corroded. the aircraft had some pot shots taken at it over the years, but it was not demolition by US Forces, so it survived the war pretty intact. the Marshalese took parts off of her when they needed something but mostly all there. We have a few of us who are trained in 3D modeling and CATIA/Solid-works software for making production drawings and translating the Mitsubishi drawings into modern 3D models. we can then produce 2D files for production down to the hangar floor. It sounds like we have a whole lot of people and manufacturing going on but it is only 7 of us, 4 full time and 3 volunteers. Gotta have a love for aviation, and seeing these old birds fly. Just like MV and restoring military equipment, its a sickness!! Spurred on by "Olive Drab" syndrome as my wife calls it.
So we design the tooling off of the original part, we make a drawing of the new part, then we produce it. Everything is in house. We have a full machine shop, metal bending, shearing equipment, etc. Plus a lot of patience. I retired last year from DoD after 33 years (23 years active Marine, 10 yrs NAVAIR contractor) and moved home to be with my dad and finish the Zero, so its for sure a labor of love.
Here are a couple of pics of the jeeps I have restored: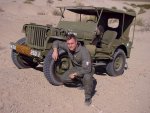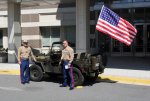 1946 CJ2A I converted for my Dad to a "MB" wanna be, and a 1952 M38 USMC jeep my buddy and i recovered in Yuma AZ and restored. 2007 at my retirement.
So, let me know if I can help wuith the harnesses, it would be fun to do, if you need anything let me know. if you ever come up this way we can certainly give you a tour of the project. Our doors are always open to like minded enthusiasts....