Alright guys... I've been thru the Buyers sticky on the 831A.... and it was heavy on great info, part numbers, and availability of said parts.
BUT:.... What is your opinion on the unit?
I'm looking for a unit to pair with a transfer switch to backfeed my house during outages.
We live in the country so were on well-water also. AC isn't an issue as I live in Wisconsin. (not needed 11 months of the year).
Not looking to graduate to a 802/803 series as its size/lack of portability is a hindrance for me at least. I would put this unit on casters and store it in a detached pole building until needed and bring it up to the house/transfer switch location.
Are you happy with your unit? Would you do it again? DO you think its capable of powering a well pump, a refrigerator, and a High-Eff house heater.
Stove, water heater, oven, dryer etc are all natural gas so no power draw for those items... but they are also not really needed during a 1 or 2 day power outage either.
Your personal thoughts on the 831A from actual use/ownership or experience? Dependable/overbuilt/reliable? Switch out the governor control card and call it good?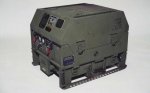 Last edited: