2 Star Admiral
Steel Soldiers Supporter
Howdy,
MEP-802A/803A wet stack information.
sample MEP-802A wet stacking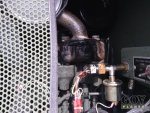 A lot of the military units are run lightly loaded, or simply not loaded. They might even be started and run for a hour or two every other month. Whatever the situation, the above picture shows a case of wet stacking.
Any buyer of a generator should prepare to put a hard load on the unit. After going through and preparing the unit to run. You will want to get it started and loaded. Start with a small load and gradually build. Remember the convenience outlets are only 10 amps. Your unit will thank you by running better too.
View attachment PS MAG. Wet Stacking.pdf