Just brought home an S-805 shelter with
ALL
the MEP-903 generator components in tact. I wanted to use this post to document the checkout and startup (attempt) of the generator since there is very little info/discussion on the MEP-903 generators.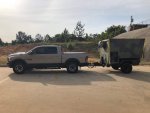 Generator Setup in The Shelter:
Generator, power input panel, inverter, power distribution panel, and the holly grail gen control panel. Also included were various power cables for shore power.
Shelter Power:
The shelter power input panel can receive power from 4 sources: Generator, 3 phase 208v, single phase 240v, and 24v through the inverter.
I put a 220v dryer/RV 50A plug (4 wire) on the end of the pigtail from the single phase 240V shore power cable that came with the shelter (2 hots, neutral, and ground). Funny how a "50 amp" RV plug is really a 220v plug with two hot 115v legs. Shelter uses the power the same as an RV, nothing is 220v. It just feeds two different 110V circuits. Even the ECU is single phase 110v.
Initially thought I messed up big time when i tried to close circuit breaker for lights. Tripped breaker in workshop and smoked a little from shelter breaker... Turns out the little indicator light for the "lights" circuit burned out and shorted. They have no fuse so it was tripping breaker. Bypassed little light and everything fired right up.
The Plan:
I am going to take my time before trying to fire up the gen as i have no idea of its current status. The hour meter on the remote control panel says 38 hours but that could mean nothing if it was swapped out. On initial inspection of the generator; the oil is full but black, not burnt; the oil filter is painted over with original gen paint (maybe 38 hours is accurate?); nothing looks out of place. The gen was designed to use remote batteries and fuel from a HMWV but I have it on a trailer so will need to get a couple of batteries and i may have a fuel feeder for a 5 gallon Jerry can from the BII on a gen trailer I have.
Steps to Start?:
1. Check/Change oil, oil filter, air filter, fuel filter.
2. Fuel hoses that went to HMWV are in tact and present but quick disconnects look old so probably change out fuel lines.
3. Two 12v batteries in series for 24v startup - maybe just WalMart Group 24?.
a. Don't think the two little batteries on my MEP-802A would start it but... ?
4. ?
I will pull the gen out of the tunnel and take more pics later this week.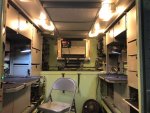 Figured some folks might be interest in seeing this thing. How it is setup and how it works... If I can get this one going.
OD
Last edited: