Well-known member
Steel Soldiers Supporter
Guys I have a little Miller stick welder, like new,
that I paid $100 for a decade or so ago from a shop
that was growing and did not need this learner unit
anymore in Brea, CA. I am quite sure that this pictured
unit is what I have, it is 23 miles away at his moment
so I can not give 100% ID but it is REAL close. I
distinctly remember the 4 position selection switch
at the top of which I need to learn about (
bonus points
if you can enlighten me about that
!) ;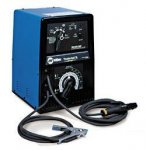 The most schooling I had on welding was w/ Mr. Peters in
high school, Mojave County Union Senior HS in Bullhead City, AZ,
circa 1972ish +/- . In metal shop I pulled high grades
but I suffer from CRS anymore....
I do remember rod selection was crucial. If I remember right
there is a common all purpose horizontal rod, was it 6013?,
but there are also common rods for vertical welding with these
small welders.
Can anyone enlighten me on some of these rod selection basics please?