Active member
Steel Soldiers Supporter
So I found out the hard way you do not want to drive the truck before it warms up. My business partner's wife wanted to drive the 7 Ton and so I let her take it for a spin when she was in town. BUT we did not wait for the warm up time and the tranny was cold. She drove about 50 feet, wanted to back up so pushed reverse, and then we got the transmission check light. At that point the tranny went to N and the truck would not move. We tried everything and the tranny would not shift to D or R. So we were stuck. The video is on youtube if you want to see it.
Anyway, I figured out later that it was due to driving with a cold tranny and it is known issue and expected to do that. It throws a code and I will start a new thread on it.
So my solution, seeing as I live a cold place, is to install heaters. I saw the magnetic heaters that just stick to the engine and tranny but so much of the truck is aluminum that I was afraid it would not stick. Plus, I did not want to take the heater off everytime I drove the truck and I did not want to leave it on when the truck is bouncing all over the place because I am sure it would fall off.
I found some silicone pad heaters that looked really good. They stick on and are intended to be left on permanently. So I purchased 3 of them.
I got two of the 400 watt heaters and one 150 watt. I put the 400 watts on the tranny and the engine and the 150 watt I put on the bottom of the fuel tank. They come with a sticky side but I had a lot of trouble getting it to stick to the CARC paint on the fuel tank so on the tranny I got all the CARC off first and then stuck it on. The engine is CAT yellow which I assume is not CARC so the pad stuck just fine. The instructions say to use red silicon to go around all the edges so that is what the red stuff is in the photos.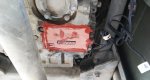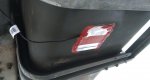 The next two are both of the engine. It's hard to see with everything blocking the camera.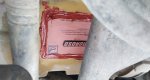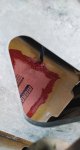 The trick to not burning out these heaters is the installation. Make sure the heater is firmly touching the metal surface so the heat has a place to go.
I have not used them yet because the instructions say to wait until the silicon has cured. So i will wait a few days and then update this thread with the results.