Well-known member
Steel Soldiers Supporter
Well, as it states, and thankfully with some outstanding SS members help, I finally have Reis the Beast home. She was rescued from Fort Bragg in July 2018, and spent thru April 2019 stored not far away in NC.
So I thought I would start my own lil corner.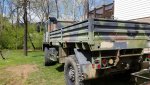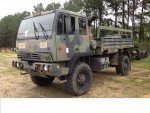 Some history on the truck- [3ESC264CSSB] 3rd EXPEDITIONARY SUSTAINMENT COMMAND, 264TH Combat Sustainment Support Battalion- This from the bumper markings, 1st level, there is additional markings deeper, but that will have to wait. Also, from some paperwork found under the seat-it was used May 2018 for a "Warrior on the Water" event May 4 2018 in NC.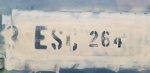 Mechanically, she drives..as I drove it from the drop off to the house,about 2 miles. Electrically she has some gremlins. Cant shut it off without pulling 52, trans shift 3 to 4 was very hard, no master switch function, eventually, after the short drive trans would go ** and you would have to shut down and restart. Some little stuff, Unable to tilt cab, battery cables needs replacing, 1 head light out, No lights on Ctis, rear emergency glad hand missing, air dryer connections loose, driver door lock missing, pass door latch needs love, grill warped,pass door window and opener handle missing. Needs a wiper arm and wipers/ horn do not work
Good stuff, oil looks brand new, with 5/18 on the filter, difs and planetary, trans fluid spotless, tires on front 50% or better, spare and rears 90% or better, paint looks great, brakes at least 98%, no cab rust with exception of minor rust at base of steering wheel floor plate.
I have gutted the cab, fixed the door window seals, got both windows rolled up. Ordered a replacement lock from advanced automation [do they make them out of gold-way too much], replaced the head lights with leds, and picked up two napa 6tls and an odyssey 2250 6tl, waiting to get the 2nd one [too much]. I have the 3 batts on charge and they are up to 13.20. In the end I may go for 6 group 31's similar to Sean Fillner/Abel build. So both 6tl's and odesseys will probably come up available in the future.
Parts i have available- factory com wiring harness, troop seats driver side fiberglass/alum.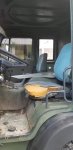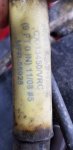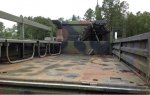 I am leaning towards expo type-looking for a cheap s280
I welcome all comments, criticism or suggestions.
.
Last edited: