In memorial Ron - 73M819
Steel Soldiers Supporter
I wanted to put my truck up much later, once I am completely satisfied with the result. However, that might take centuries, and only 6 contestants is not much fun.
So I will throw in my 1965-73 M51/2 A2 w/w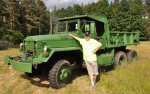 This is the only pic I have close on my old laptop, hope I can change it later when I am home.