Well-known member
Steel Soldiers Supporter
I recognize this topic has been covered at length, and I am very appreciative. I've spent a fair amount of time researching 12 volt-related threads and am very thankful for the collective information posted by members on this site. When it's all said and done, my goal for this thread is to consolidate the knowledge I've gained and showcase the installation in my truck.
Disclaimer.
This is my first electrical modification to any vehicle ever. I am a novice (to say the least) and have enjoyed learning and planning so far. If the information in this thread seems very basic, that's because it is. If it is too basic for you, please feel free to check-out the pictures and move to the next thread.
What's going in?
My wife had a custom 12 volt accessory kit made for me as a Christmas gift. It has three ports for cigarette lighters and four USB ports. There are two in-line fuse holders with 15 amp fuses and a toggle switch. It is built to look like the dash of a M35A2 and the port covers light-up like the dash.
Uses.
The 12 volt accessory kit will primarily be used for a phone charger and a GPS unit. At this time, I do not plan to add other 12 volt accessories. But who knows, there may be a CB radio added in the future.
Other.
I want all of the accessories controlled through a common switch. Also, I want to add a 24 volt back-up camera in the future (but that is a ways off).
The Plan.
I'm using a 50 amp, 24 volt solenoid to switch the accessories. There will be a 50 amp in-line fuse between the batteries and the solenoid. From the solenoid, 24 volt power will go to a common busbar, which will facilitate future installation of the 24 volt camera. I decided to use a Pyle 24 volt to 12 volt converter for power at the accessory kit. There are a lot of options for this (battery equalizer, 12 volt alternator, center tap one battery, etc.), but I decided to go with the Pyle converter. Here is a
(very crude)
wiring diagram:
View attachment 12V DC Accessory Kit_Install.pdf
Materials.
In addition to the custom 12 volt accessory kit, I will use the following materials:
| | | | |
| --- | --- | --- | --- |
| Cost | Component | Manufacturer / Part Number | Vender (Item #) |
| $7 | 6 gauge in-line fuse holder, 80 amp max | Maxi | Del City (78515) |
| 16 | 50 amp fuses (Quantity: 10) | Maxi | Del City (78504) |
| 56 | 24V DC Solenoid, 50 Amps | White-Rodgers # 70-117224-5 | Grainger (#6C030) |
| 8 | Toggle Switch, SPST, 2 Conn., On/Off | Power First # 2VLN5 | Grainger (#2VLN5) |
| 15 | 100 Amp common busbar | Blue Sea Systems PN: 2315 | Amazon |
| 45 | 720 watts 24V DC to 12V DC converter | Pyle # PSWNV720 | Amazon |
| 15 | Red and black 10 gauge wire (8 ft. each) | N/A | AutoZone (85700R / 85702B) |
| 10 | Black 6 gauge wire (10 ft.) | N/A | Home Depot |
| 31 | Grommets, wire connectors and ring terminals | Various | Various |
| $203 | | | |
The installation is planned for next weekend. I will post more pictures when the install is done. Also, assuming it works, I will post more information about the challenges and questions I had when planning (remember, this was completely new to me).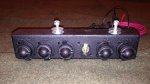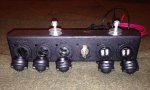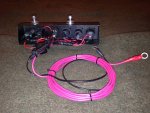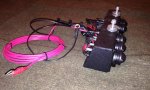 Comments, criticism and questions are definitely welcome.
Last edited: