I picked up one of those blood coolers at auction a few months back. Got it for a steal (they've gotten stupid expensive lately). I knew it was too large to really incorporate into my build, but I wanted it for the M1082 trailer (it's my "platform" to sit in the shade and watch bikinis, surfers, etc). And that is where the beer needs to be...
The cooler has a sort of false bottom. It's open to allow air circulation (there is no other opening). The internal shell that is screwed in is actually part of the cooling system (it has molded plastic flex cooling lines with sensors and some other bits attached to it). There are two rectangular cut outs that share a 1" plastic strip down the center. The whole thing isn't really designed with load bearing in mind, especially with the blood baskets removed. I wasn't about to just toss beer in there, so I came up with a plan.
I cut down three of the blood bag baskets so they sit just above the top of the internal-most shell to suspend a new bottom. Then I cut a 1/4" thick sheet of acrylic to fit and cut six holes into it for airflow (which rests on the trimmed baskets). Now I have a nice solid bottom to stack beverages, etc.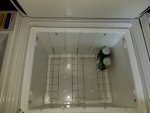 Next I want to add some insulation (which there appears to be none). There isn't much space around the perimeter, so I'm thinking sheets of closed cell foam. The white, hinged lid appears hollow so that might accept a small layer of expanding foam (won't know until I disassemble).
I may add a spring or gas strut to hold the lid open but I don't think that there is anything sturdy enough to affix it to the inside. I'm looking at options. I may hinge the outer (green) box top (it currently just buckles down). *That* could then accept a little strut. Then use some webbing or something so when you open the outer lid, the inner white lid follows
There's even enough room on the battery side to add a small Bluetooth receiver/amp and a set of small speakers (LOL).
The thing is still stupid big and an Iceco from Amazon would have been more practical, but this was still cheaper and it's turning into a fun little project. At 180 lbs unloaded, I'll have to crane the damned thing into the trailer.
LOL