Well-known member
Steel Soldiers Supporter
So a few months back I got a call from a buddy that they needed a HMMWV for a couple scenes in a movie.
As far as I can tell, it was basically just a background prop, with one short action scene of the truck pulling up fast and skidding to a halt.
For as little time as it's in the movie, I was surprised it made it into the movie trailer, and is even the shot that shows up on the facebook page trailer.
Not endorsing the film, as I didn't have any involvement other than sitting in my truck for one scene, and driving it about 50 feet in another, but was a little excited it's prominent.
Screen shot of the trailer. slightly blurry, but I'm driving.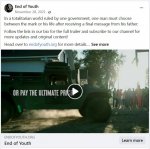 if you watch the trailer (about 50 seconds in on the NOV 28 post, or 2:18 on the DEC 30 post), I though the shot of the truck skidding to a halt and the way the tires bounced was interesting.
End of Youth. 194 likes · 42 talking about this. A faith based, tribulation story about defiance set in the near future. Inspired by the global humanitarian crisis of Christian persecution.
www.facebook.com
or at 1:03 in the youtube version
Last edited: