Active member
Steel Soldiers Supporter
Micah,
I did a favor for you so now I am asking a favor from you. I was looking for grease zerks under my truck (found 37 so far) and I found what looks like a fitting that should have a hose on it. BUT there is no hose to hook to it. Could you please check your truck and see what hooks up to this fitting?
So under the driver's door there is the steering linkage. You can stick your head up there and look towards the front of the truck. You will see the starter and what looks like a fitting.
Here is where to stick your camera up and over the steering to see the fitting.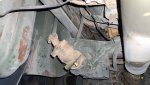 And here is what I saw on my truck: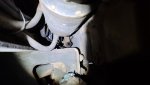 This is a close up of what I am asking about: